Version 0.17 (November 16, 2018)¶
For a full list of included Pull Requests and closed Issues, please see the 0.17 milestone.
Features¶
The cartopy.feature.NaturalEarthFeature class now allows a cartopy.feature.AdaptiveScaler object to be passed as the scale argument. This will automatically choose the appropriate feature scale from the GeoAxes extent. This can also be used interactively while panning and zooming in a figure. cartopy.feature.NaturalEarthFeature.scale is now read-only. (PR #1102, PR #983)

Proj version 5.x is now supported in Cartopy, thanks to hard work by Elliott Sales de Andrade. As part of making this version work, the inner workings and boundaries of many projections were improved. (PR #1124, PR #1148) Elliott also improved support for warped rectangular projections (PR #1180) as well as added support for the Eckert family of projections (PR #1168) and Equal Earth projection. (PR #1182)

Greg Lucas contributed functionality to plot day/night across the globe, which was turned into a map feature by Phil Elson. The shading can be added to a map with cartopy.feature.nightshade.Nightshade(datetime). For more information, see the Nightshade feature example. (PR #1135, PR #1181)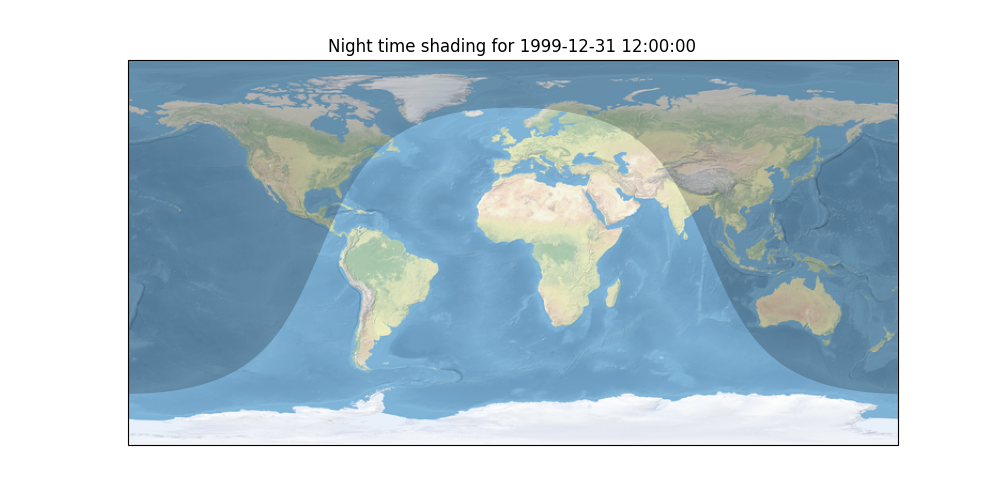 Deprecations¶
cartopy.mpl.clip_path.clip_path() has been deprecated. It is a simple wrapper for Matplotlib's path clipping, so use that instead. You can replace clip_path(subject, clip_bbox) by subject.clip_to_bbox(clip_bbox).

cartopy.io.img_tiles.StamenTerrain has been deprecated. Use Stamen('terrain-background') instead.

In CartoPy 0.18, the default value for the origin argument to cartopy.mpl.geoaxes.GeoAxes.imshow() will change from 'lower' to 'upper' to match the default in Matplotlib.
Incompatible Changes¶
Support for Matplotlib < 1.5.1 and NumPy < 1.10 has been removed.